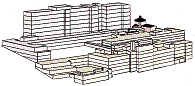 PRAYER FOR MOMS WAITING

Lord, Almighty God, lover of life,
you gave new beauty and sweetness to motherhood
wanting your Only Begotten to be born
of a woman, Mary, by the Holy Spirit;
Ithank you for calling me to a service of life
that sets me so near you.
The ceremony of life that you wanted the newlyweds to celebrate,
gave birth in my womb to a new life
whose soul was created by you, Almighty God.
Give me through your Son, who I belong to, and through the gentle action of the Holy Spirit,
deep peace, so much as to share it with he creature living and growing within me.
Keep far from me any anxiety for childbirth,
as I know that the suffering will be soon forgotten
before a life no more in my womb, but in my arms.
Amen.
Virgin Mary bless me.