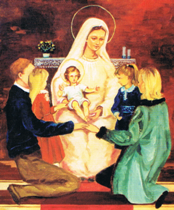 PRAY TO MARY FOR THE FAMILY

Hail Mary, Spouse of Joseph and Mother of Jesus through the Holy Spirit,
we invoke your name so that you protect all the families in the world.
Queen of the families, through your powerful intercession to God,
make the Christian families aware
of being a "school of elevation"
so that they overcome any contention.
Make them generous in serving life
and give them the courage to accept a new life in any situation.
Queen of the families, intercede also for all the families of non-Christian religions,
so that they receive help to live their natural values
and may come to see them elevated thanks to the encounter with Christ.
Please, give all the families in the world the economic serenity,
which is necessary to lead a dignified life.
Amen.