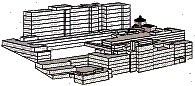 PRAYER FOR DOCTORS AND NURSES

Lord, God of life, Servant of life,
I thank you for allowing me to be a contributor of hope and relief
among the sick and the suffering through my professional preparation.
Allow me, besides my professional competence, always to have, on my face,
a smile that understands, reassures and makes one feel the worth and dignity
of the poor in health.
Allow me never to stand out against the others, but to offer an efficacious service.
I thank you, Lord Jesus, because I saw flashing those smiles
that rendered me a sharer of the givers' joy.
I thank you for the simple, furtive, silent teachings I received from my patients
whose confidence is the flower of their souls.
Lord Jesus, I thank you for your examples:
for the parable of the Samaritan,
for your attention in favour of the blind man of Jericho
of the paralytic lowered from the roof,
and of that paralytic abandoned in the vicinity of the pool of Bethesda.
I thank you because you taught me to make the meaning of suffering, luminous
Mary, health of the sick, strength of the weak, I entrust you with my work, this day,
and with my whole life.
Amen.